Boothbay Harbor Restaurants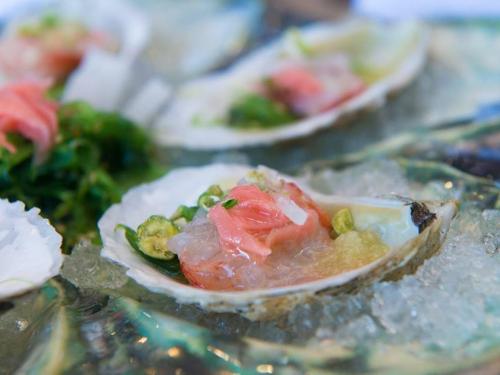 Guest at the Harbour Towne Inn have a myriad of great Maine restaurants literally just steps away. From our Inn, you can walk to waterfront seafood restaurants serving Maine lobsters, chowder and traditional clambakes on the waterfront. Boothbay has everything from cozy cafes and coffee shops to Chinese, tapas, and wine bars by the water. Elegant, award winning dining, located just a block from our Inn, and outdoor lobster shacks provide something for every palate and pocketbook.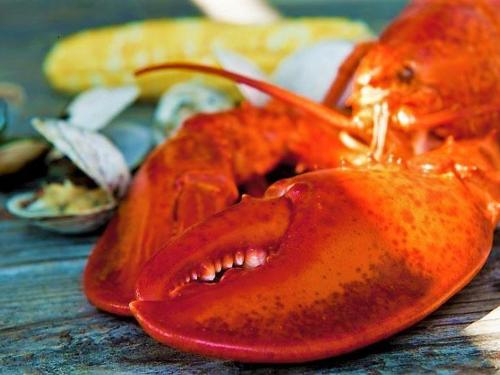 Maine seafood does taste best with a view of the harbor, and Harbour Towne guests quickly discover favorites in Boothbay Harbor. Our innkeeper is happy to offer suggestions and make reservations when necessary. Be sure to save room for Maine made ice cream, chocolate moose, and salt water taffy too.
Places to eat in Boothbay Harbor, Maine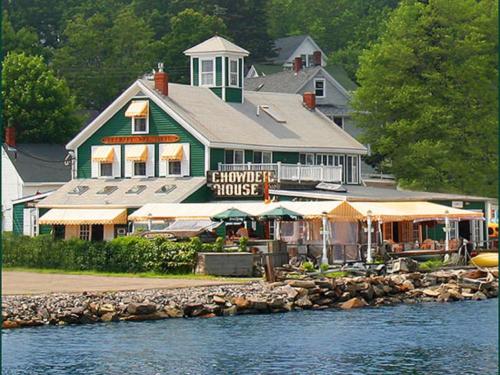 Here is a list of some of the local restaurants near Harbour Towne Inn:
Atlantic Edge Lobster, Inc. l 207-633-2300
Blue Monn Cafe |207-633-
Boathouse Bistro Tapas |
Boothbay Harbor House of Pizza | 207-633
Boothbay Lobster Wharf l 207-633-4900 l 800-996-1740
Bridge Street Cafe l 207-633-7447
Browns Wharf Restaurant | 207-633-
Cabbage Island Clambakes l 207-633-7200
Caper's Deli | 207-633-
Coastal Prime | 207-633-
Codds Head Fish House |207-633
China By The Sea l 207-633-4449
Chowder House Boat Bar and Outdoor Grill l 207-633-5761
Coastal Maine Popcorn Company l 207-633-2266
Ebb Tide l 207-633-5792
Five Island Lobster http://fiveislandslobster.com |
Fisherman's Wharf Restaurant | 207-633
Harborside Tavern | 207-633-4074
Kaler's Crab and Lobster House l 207-633-5839
Lobsterman's Wharf Restaurant l 207-633-3443
Mama D's |
Mine Osters | 207-633-6616
McSeagull's Restaurant l 207-633-5900
Moosehead Coffee and Ice Cream Shop l 207-633-1145
Ocean Point Inn Resort and Restaurant l 191 Shore Road, East Boothbay l 207-633-4200
Orne's Candy Store l 207-633-2695
Osprey Restaurant l 340 Robinhood Road, Georgetown | Reservations: 207-371-2530
Phil's Rt. 27 Lobster Stop l 207-633-5189
Pier 1 Pizza and Pub l 207-633-5586
Ports of Italy l 207-633-1011
Reds Eats | 207-
Red Cup Coffee House | 207-633
Rivers End Farm l 207-633-4044
Robinson's Wharf and Tugs Pub l 207-633-3830
Rocktide Restaurant l 207-633-4455
Shannon's Unshelled |
Spruce Point Inn Restaurant l 207-633-4152
The East Boothbay General Store l 207-633-7800
The Lobster Dock l 207-633-7120
The Whale's Tale Restaurant l 207-633-6644
Thistle Inn Restaurant | 207-633-
Tugboat Inn Restaurant and Marina l 207-633-4434
Waves |207-633-

"We came to Maine for the lobsters and we just love it here. The breakfasts at Harbour Towne Inn are delicious." – Lee Walden, Darien CT